CLEVELAND (April 13, 2015) – AT&F, a world leader in large-scale steel fabrication, is nearing completion of its first fabrication facility in Asia. The facility, located in Chakan, just outside Pune in the Indian state of Maharashtra, is scheduled to open in early summer 2015.
"The new plant will fabricate and assemble metal components for OEM customers in the construction, transportation, mining, building and automotive industries. The Chakan area in Pune is a fast-growing manufacturing hub that many multinational OEMs are moving into, and the opening of the AT&F facility will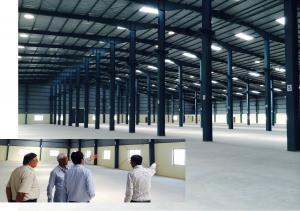 greatly help meet their demand for structural metal fabrication.
Since its inception in 2011, AT&F India has been involved in major infrastructure projects in the state of Gujarat. AT&F has raised large steel structures for power plants and built barges and pontoons for port expansion projects.
"The new facility represents an exciting new chapter in AT&F's story in India," said Chris van Raalten, an AT&F executive. "While the infrastructure projects will continue, we now look forward to also serving our customers with state-of-the-art fabrication equipment from our new plant. We want to adopt the same business recipe of unique capabilities and management discipline that have made us so successful in the U.S. for more than 75 years. Existing customers will benefit from AT&F's enhanced global capabilities, and the Chakan plant will also help us attract new customers."
AT&F CEO Michael Ripich said the opening of this facility is a tremendous leap forward for the company's global presence.
"In this our 75th year in business, the opening of this facility represents a next step toward globalizing our U.S. operations," Ripich said. "Over the long term, we want to reach our customers wherever they are in the world. We can now build and ship much closer to many of our clients' global locations. It's going to make us more responsive and become even more service-oriented."