First Bridge in the U.S. to be designed with new press brake-formed tub girder technology Ribbon Cutting Ceremony
The newly built Amish Sawmill Bridge located at 1358 Dillon Avenue in Fairbank, Iowa was dedicated with a ribbon-cutting ceremony featuring several government, transportation officials, and AT&F personnel on Friday, January 8, 2016. The bridge is the first in the U.S. to be designed with the new press brake-formed tub girder technology, which is constructed with full-width steel plate that has been cold-formed using a press brake and supported by geo-synthetic reinforced soil (GRS).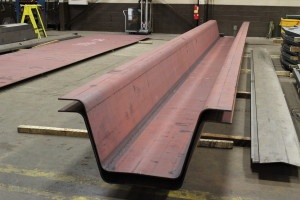 The press-brake formed girders, also known as folded plate girder or folded plate, were fabricated in Cleveland, Ohio by AT&F on the longest single ram press brake in the U.S. AT&F's 2800 ton press brake forming capabilities provide precision formed parts up to 70 ft (21.3 M). The massive press allows for single piece construction eliminating weld seems and permits consistent, repeatable process to streamline designs. Additionally the programmable and adjustable stroke and ram speed provide a process optimized for speed, accuracy and repeatability.
The bridge design was a collaborative effort between the Short Span Steel Bridge Alliance, the Iowa Department of Transportation and Buchanan County. The press brake-formed technology advantages include: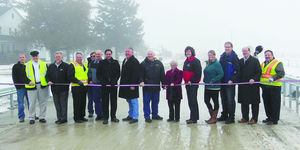 A steel solution for new and replacement bridges with modular/prefabricated components that are economical and help accelerate construction.
A reduction in additional details such as stiffeners and cross frames.
The ability to be used for both tangent and skewed configurations on simple or continuous spans.
County engineers in other states have expressed interest in using this technology for their new and replacement bridge construction needs.
The ribbon-cutting ceremony was followed by a reception and remarks by government and industry experts which included Chris Cromwell, Bridge Engineer, Federal Highway Administration (FHWA); State Representative Bruce Bearinger (D) from Iowa; Ellen Gaffney, Buchanan County Supervisor; David Stoddard, Chairman, Short Span Steel Bridge Alliance and Applications Engineer, SSAB Americas, Muscatine, Iowa; and Robert Wills, Vice President of Construction Market, Steel Market Development Institute, a business unit of the American Iron and Steel Institute.