After arriving at the Ronald McDonald House in Cleveland, OH, the team of AT&F volunteers quickly unpacked the groceries and began preparations. This was not their first time making dinner for the house, and their confidence in the kitchen was reassuring to many of the guests. The team prepared pizza and made good use of the four ovens in the kitchen. With up to 55 families to feed, dinner had to be big. Fortunately, a five-person team made quick work of the bulk-purchased food.
Established in 1979, the Ronald McDonald House of Cleveland was organized to ease the burden on families of patients in the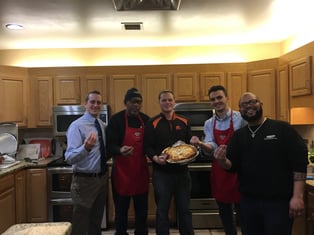 Cleveland metropolitan area and has served hundreds of thousands of patients and their families ever since. "The House", as it is referred to by the guests and volunteers, has provided a home-like environment for these patients and families while they await treatment at the nearby Cleveland Clinic.
"You guys have no idea how much this means to us," one guest said as they looked over the counter to watch the different pizzas being prepared. For many guests at the Ronald McDonald House, every night is filled with uncertainty. Many guests travel from across the world to stay at the house while receiving medical treatment at the Cleveland Clinic. The house asks for a $20 donation per night from the guests, but the house never turns families away due to inability to pay.
For the past five years, AT&F team members have volunteered their evenings to make dinner for the house. The team for the night was diverse in skill and enthusiastic about the meal. Pizza is a true crowd-pleaser, after all. And with four different types of pizzas, even picky eaters could get a good meal.
A small girl with two service dogs approached the team during preparations. Her family was spending the day in the hospital while her older sister went through dialysis, and would likely miss the dinner. Her sister had many food-based allergies but could eat cheese pizza, so she asked if the team could set one aside for her family. The team immediately set a fresh pizza on a plate, covered it with aluminum foil, and gave it to the girl. She thanked the team and sat in the dining area, excited to be able to share dinner with her family.
The Ronald McDonald House of Cleveland is an oasis for families fighting through illness. With everyday stress like meals and housing alleviated, families can focus on supporting each other, and AT&F team members proudly volunteer their time and skills to give the families peace of mind during trying times.
For more information about AT&F's volunteer work or to get involved with the Ronald McDonald House contact Joe Roddey at info@atfco.com or 216.688.3178.