CLEVELAND, Ohio – December 15, 2010 – A world-leader in forming and rolling heavy-wall cylinders and rings to long lengths, AT&F Steel can now go further. The Cleveland-based manufacturer, a division of AT&F, is unveiling massive new rolling capabilities to roll plates up to 12" (300MM) thick and 14' (4.3M) long in single-piece construction.
AT&F Steel's multi-million dollar expansion of plate rolling capabilities is in response to the increased demand for heavy fabricating in the United States. In addition to the greater thickness and length capacity of the machine, the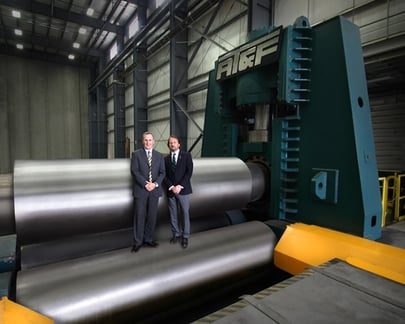 roll will form cylindrical components to diameters as large as required. "One of the key areas that has remained consistent since our company was founded in 1940 is our commitment to investing in the largest state-of-the-art equipment available in the marketplace. By installing these 14' heavy capacity rolls, we have the ability to roll thicker, longer sections than previously possible for our customer. This will result in significant life cycle cost savings by eliminating weld seams and other operations. We can also replace large forgings and castings with high quality, tight tolerance fabrications," states Ken Ripich, Executive Vice President.
Continually developing unique services to assist OEMs and fabricators AT&F Steel provides component parts and fabrications to a wide range of industries. Ripich continues, "Many of our clients, including those in the mining, oil and gas, nuclear, and fossil fuel energy sectors, require large scale fabrications. By installing the largest rolls in the world, coupled with our experienced craftsmen and passion for high quality products, we are realizing our goal of being the "go to" fabricator for heavy rolling requirements worldwide." AT&F Steel's massive tonnage equipment for custom shaping and fabricating medium to heavy, long parts and components is one facet of its comprehensive manufacturing facility.
AT&F Steel's service center offers prime materials direct from the mill, and its burning center boasts large tables with full plate capabilities for precision laser, plasma, flame cutting and contour beveling. The forming experts at AT&F Steel specialize in cylinders, rings, cones, segments, angles and custom shapes in medium to heavy walls, long lengths, small and large diameters. A complete range of welding processes, all in accordance with the appropriate industry specifications, meets any customer requirement. In-house non-destructive testing, heat-treating and shot-blasting are a few of the many other services available. AT&F (American Tank and Fabricating, www.atfco.com) began operating as a steel fabrication company in 1940. Pride and attention to detail have inspired its growth and helped to define the manufacturer it is today – AT&F Steel. Through its divisions and brands AT&F has built an outstanding corporate reputation providing custom steel manufacturing solutions to industrial manufacturing companies throughout the world. Today, AT&F celebrates its fourth generation of family leadership and remains a privately held corporation. AT&F is committed to the values behind "green manufacturing."
Contact: Kevin Cantrell Vice President-Business Development 216-252-1500