CLEVELAND, Dec. 3, 2010 /PRNewswire/ -- AT&F announces the addition of a third state-of-the-art robot cutting system to their extensive capabilities. The advanced contour beveling system cuts multiple bevel profiles, straight or shaped, in a single operation. A recognized leader in steel processing, AT&F Steel continuously expands its capabilities to meet the needs of its growing customer base. The programmable robotic torch and hi-tech laser guided camera system allow extensive geometries to be cut including X, Y, V and K bevel profiles from 0 to 60 degrees while boasting finished tolerances of +/- ½ degree and +/- 1/32" (1 mm) on the final dimensions. Combining those quality benefits with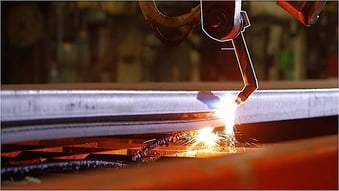 blistering cutting speeds up to 300 inches (762 cm) per minute provides significant cost-saving opportunities for customers. The 13 feet x 50 feet (4 M x 15.2 M) cutting table can handle non-ferrous metals up to three inches (80 mm) thick and can be configured to use plasma and oxy-fuel. "The equipment is state-of-the-art," says Michael Ripich, AT&F President. "The laser guided eye ensures great bevel quality every time. Moreover, this technology is a great deal faster and more accurate than traditional beveling methods, as well as safer." Most importantly, however, the process has broad benefits for customers.
The system eliminates down-stream operations like grinding, machining, and handling. Using precisely cut beveled parts minimizes fit-up and reduces welding time, lowering over-all manufacturing costs. "At the end of the day, our decision to invest in new equipment capabilities is fueled by our desire to provide products and services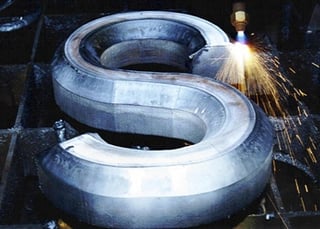 to our customers," says Ken Ripich, AT&F Executive Vice President. "Our ability to provide weld-ready contoured bevels without having to machine or grind them saves both time and money throughout the manufacturing process, a savings we pass through to our customers." AT&F Steel, a division of AT&F (American Tank and Fabricating, Co.) of Cleveland, Ohio, has long been an innovator in the steel processing and custom manufacturing industry. Specializing in manufacturing services, AT&F Steel is a steel service center and provider of materials, fabricating, component manufacturing and assemblies. Through their divisions and brands they provide custom steel manufacturing solutions to industrial manufacturing companies throughout the world. Following an increased demand for metal fabricating in the United States, the company has developed unique services while building an outstanding corporate image.