CLEVELAND, Ohio – February 16, 2011 – AMTANK Armor is dedicated to meeting the US Army's mandate of "Institutional Adaptation" with its protective building systems and will exhibit the technology at AUSA's ILW Winter Symposium. Exposition in Fort Lauderdale, February 23rd through 25th (Booth #2600).
Visit AMTANK Armor Booth #2600 at AUSA ILW Winter Symposium and Exposition
In response to the military's need for versatile and fast response to changing threats, AMTANK Armor adapted its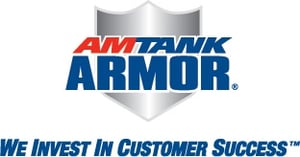 patented Steel Composite Technology (SC) for use in structural panels for semi-mobile protective structures. The panels can be adapted for specific protection requirements and offer superior blast and ballistic defense. The structures provide quick set-up, modular versatility and minimal logistics. These re-useable structures can be configured as operation and command centers, barracks, storage or perimeter protection, and can be equipped with fully self-contained power, HVAC and water, as needed. They are designed to combat blast and ballistic as well as chemical, fire and environmental threats.
To be responsive in a competitive security environment, these adaptive structures will be vital. "AMTANK Armor was developed to offer both lightweight composite protection for the vehicle market and Steel Composite protection for semi-mobile and non-mobile structures. Our SC product offers occupants a significant level of blast and ballistic protection. This product is manufactured in Cleveland, Ohio, and can be easily attached to the interior or exterior of a structure utilizing our patented ballistic bolts," states Ken Ripich, Executive Vice President. AMTANK Armor is a joint venture, between AT&F and Composhield A/S, which focuses on the design and manufacture of armor materials for vehicles and structures. Through its divisions and brands, AT&F has built an outstanding corporate reputation providing custom steel manufacturing solutions to industries throughout the world. AT&F began operating as a steel fabrication company in 1940. Quality and innovation have fueled its growth and helped to define the manufacturing group it is today.