CLEVELAND, OH--(Marketwire - March 28, 2011) - The American Tank & Fabricating Company (AT&F) is a proven leader in the Pressure Vessel Industry. The company has the longest-running "U" Stamp and many years of experience serving the marketplace with reliable quality tanks, vessels and metal components. ASME "U" Stamp Number 14 was awarded to AT&F the first year the ASME began issuing numbered stamp certifications. Stamp numbers 1 through 13 are no longer active. This is quite a distinction as ASME recently issued stamp number 40,494. AT&F Has the Longest-Running ASME "U" Stamp.
AT&F continues a long-running commitment to quality and has added a full complement of nuclear capabilities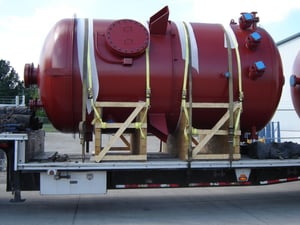 ASME "N," "NA," "NS," "NPT," and "N3" stamps. In response to needs for safety and quality standards during the industrial revolution in the United States over a century ago, the American Society of Mechanical Engineers (ASME) was created. ASME developed the Boiler and Pressure Vessel (BPV) Code, the international gold standard governing the design, fabrication, and inspection of boilers and pressure vessels, and nuclear power plant components during construction. Since 1941 the certification for pressure vessels is symbolized by the "U" Stamp to indicate that the vessel has been fabricated in accordance with the ASME Section VIII Division 1 Boiler and Pressure Vessel Code.
As holder of "U" Stamp Number 14, AT&F has the longest history of certified pressure vessel production of the 5,089 "U" Stamps currently in use. "Our 'U' Stamp Number 14 is not just a certification to us. It's a symbol of the dedication to excellence from our beginnings, our perseverance, and our ongoing commitment to being the best steel solutions provider in the world," says Michael Ripich, President. "Our roots are deep, and from that, our branches are widening." "Excellence is not a stopping point," says Ripich. "We continuously look to stay at the forefront of service to our customers and the industries they serve." AT&F Steel now has the largest plate rolling capability (12in x 20ft) (300MM x 6M) and longest single press brake (59ft) (18M), as well as the largest Hybrid Laser welding system (20ft x 60ft) (6M x 18M).
Ripich concludes, "We prefer to say 'longest running,' because we do not feel at all old and we do not plan on stopping." Today, AT&F is a dynamic corporation known as the go-to for metal fabrication services. AT&F is a steel processing service center and provider of materials, fabricating, component manufacturing and assemblies. Through its divisions and brands, AT&F has built an outstanding corporate reputation delivering custom steel manufacturing solutions to a broad range of industries throughout the world.