CLEVELAND, OHIO – August 27, 2014 – A CNC vertical boring mill, or vertical turning lathe, is the newest testament to AT&F's commitment, "We Invest In Customer Success.™" Coupled with the neighboring horizontal boring machine, AT&F (www.atfco.com) brings full-service, large-scale machining to their steel fabrication customers.
A 360-degree rotary table with a diameter of more than 16 feet and a load capacity of 160 tons, the machine can handle the largest of machining needs. Capabilities include a 30-foot swing, more than 8 feet of ram travel, as well as Y-axis table movement.
The company's latest investment in machining equipment will offer its customers the ability to purchase finished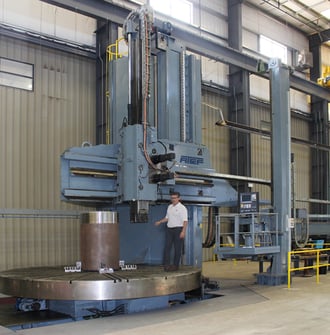 weldments from AT&F. Contract machining services can also be provided as needed. The new machine, paired with the existing horizontal boring machine, sets AT&F machining apart from the pack. The horizontal machine stands 15 feet tall and has a 100-ton indexing table; capabilities include 40-foot X-axis x 15-foot Y-axis x 6 foot Z-axis travel, a 7-inch spindle, and the ability to handle cylinders up to 15 feet in diameter.
AT&F has enjoyed substantial growth in recent years. "We expanded our capabilities to better serve our customers' needs by investing in equipment to provide large precision components, ready for assembly in our facility or by our customers. The new vertical and horizontal boring mills, coupled with some of the world's largest forming and rolling equipment, and state of the art welding technology including robotic and hybrid laser, allow us to do more for our customers all from one location," states Michael Ripich, AT&F CEO.
Ripich continues, "The vertical boring mill is housed with our horizontal boring mill in a facility with a 100-ton lift capacity, rail access and 25-foot doors. Consistent with our key strategy, we continue to invest in our customer's success."
AT&F has built an outstanding corporate reputation providing custom steel manufacturing solutions to industries throughout the world. Quality and innovation have fueled its growth and helped to define the manufacturing group it is today. AT&F is committed to customer success via specialized facilities and locations and nonpareil quality systems: ASME U, U2, S, N, NPT, NS, NA stamps, and ISO 9001:2008 certified. AT&F operates 700,000 square feet of manufacturing space throughout the globe: Cleveland, Ohio; Orrville, Ohio; Manitowoc, Wisconsin; and Aarhus, Denmark.