CLEVELAND (February 9, 2015) -- AT&F (American Tank & Fabricating) has been selected to partner on Project Icebreaker, a pioneering effort to develop the first freshwater wind energy source in North America.
The demonstration project, led by the Lake Erie Energy Development Corp. (LEEDCo) at a site seven miles northwest of downtown Cleveland, is aimed at catalyzing manufacturing growth in the United States by removing barriers between American steel fabricators and the offshore wind industry.
"AT&F has over 75 years of experience providing quality steel products to the renewable energy industry, and we are excited about the opportunity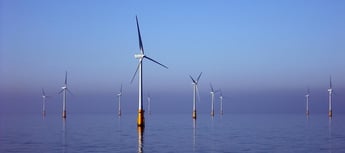 to extend our expertise for use in the offshore wind industry," said AT&F CEO Michael Ripich. "Offshore wind in Lake Erie has huge potential, and we look forward to collaborating with LEEDCo on this project. Bringing manufacturers on board at this early stage is the best way to develop the most cost-effective design."
With the help of GLWN — an initiative of Cleveland-based WIRE-Net — LEEDCo selected AT&F as a partner representing U.S. steel fabricators during the design of the foundation, which will support six Siemens 3.0 MW turbines. AT&F was selected because of its standing as a leader in its industry with the sophistication necessary to fabricate mono-piles of the size and complexity required by the offshore wind industry.
Once the design is finalized, Project Icebreaker will be the first project in which it will be used. The project has gained support from numerous public officials, including Cleveland Mayor Frank G. Jackson. "The Department of Energy's further support of Project Icebreaker will provide the initiative with continued momentum to create a freshwater wind industry built upon our current economic assets," Jackson said.
About
In the USA, AT&F has built an outstanding corporate reputation providing custom steel manufacturing solutions to industries throughout the world. The company has built an outstanding reputation of quality and innovation by providing custom and high volume steel fabrication to industries throughout the world. They are committed to customer success via specialized facilities and locations, and superior quality systems. AT&F is an ISO 9001:2015 certified fabricator with 600,000 square feet of manufacturing space in multiple locations, including Cleveland and Orrville, Ohio, Manitowoc, Wisconsin, and Aarhus, Denmark.