CLEVELAND (May 8, 2015) — AT&F, one of the world's leading large-scale metal fabricators, has been awarded certification by the American Institute of Steel Construction (AISC). This now allows AT&F to perform work on a variety of bridge projects requiring an AISC-certified contractor and expands the ways in which AT&F can serve its customers.
"We want to be able to build components for accelerated bridge construction projects for our customers, and this certification will help us deliver," says Paul Horbaly, Business Development Representative at AT&F. "Each state's Department of Transportation requires AISC certified suppliers for bridge components as the nation rebuilds our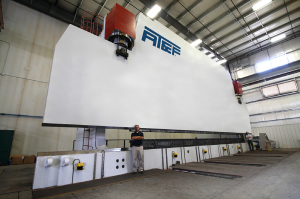 structurally deficient infrastructure."
AISC certification lets customers know that AT&F has met and exceeded AISC's rigorous quality-control specifications. AT&F applied for the certification in November 2014 and received it following a series of audits and document reviews to ensure it has the systems and processes in place to merit certification.
With AISC certification, AT&F can put its BIG capabilities to work in new ways on bridge projects requiring greater spans than previously available in the bridge girder market. These specialized girders require an extremely large press brake to cold-form the bridge girders. "We have some of the largest-capacity and most advanced equipment in the industry to handle all of our customers' needs," Horbaly said. "We have a 60-foot-long single-ram press brake with a 2,800-ton capacity, which is unique in our space. It is the largest of its kind in the world. We can offer services to our customers they can't get anywhere else."
AT&F's CEO Michael Ripich said AISC certification will help AT&F bring innovation to an industry looking for fabricators with new capabilities. "We are excited to offer large fabrication expertise honed over 75 years in the heavy industrial and defense markets to bridge designers and builders," he said. "The bridge construction industry is looking for innovation. AT&F is the source for BIG innovation."
For more information on AT&F's state-of-the-art 60-foot press brake, click here.
About AT&F:
AT&F has built an outstanding corporate reputation of quality and innovation by providing custom steel manufacturing solutions to industries throughout the world. We are committed to customer success via specialized facilities and locations, and nonpareil quality systems. AT&F is an ISO 9001:2008 certified manufacturer with 700,000 square feet of manufacturing space at locations around the globe, including Cleveland and Orrville, Ohio; Charleston, S.C.; Aarhus, Denmark; and Mumbai, India.