AT&F is pleased to announce the addition of our new 5-axis water jet cutting system with one of the largest processing envelopes available today. This machine will give our customers the ability to process carbon, exotic alloy, and composite materials while providing tight tolerance accuracy comparable to that of a machined finish. The 5-axis head is ideal for compound beveling and weld landings. This highly desirable cutting technology investment is properly aligned with our on-going strategy: "We Invest in Customer Success."style="background-color: transparent; font-size: 1rem;">
Water jet cutting is an ideal method for processing materials which are sensitive to high temperatures generated by alternative cutting methods. Material examples include; aluminum, titanium, stainless, inconel, zirconium,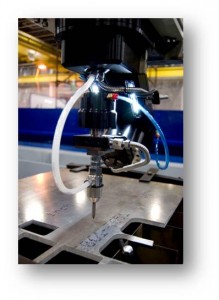 carbon and other alloy steels, and composites
14' x 30' cutting envelope
Most accurate 5-Axis cutting head of its kind
Wide Cutting Angle: From 0° vertical to 90° horizontal
Unlimited rotation in either direction without wind up or unwind
Range of Travel: 12" vertical travel on Z-axis
Accuracies: ± 0.0166 degrees (± 1 arc minute)
ABOUT
About AT&F has several years of experience, impressive equipment capabilities, and quality in their DNA. These qualities are aligned with AT&F's core focus to Build, Protect, Energize, and Move the World through metal fabrication. The company has built an outstanding reputation of quality and innovation by providing custom and high volume steel fabrication to industries throughout the world. They are committed to customer success via specialized facilities and locations, and superior quality systems. AT&F is an ISO 9001:2015 certified fabricator with 600,000 square feet of manufacturing space in multiple locations, including Cleveland and Orrville, Ohio, Manitowoc, Wisconsin, and Aarhus, Denmark.