CLEVELAND (June 23, 2015) – AT&F, a world leader in large-scale metal fabrication, has expanded the array of services available to its customers with the addition of a five-axis water jet cutting system.
The water jet cutting system allows AT&F to cut and process a variety of materials including titanium, stainless steel, aluminum, and composite materials, providing a solution when a heat-affected zone is undesirable. The five-axis head design will allow for a variety of intricate and complex angle cuts from 0-90 degrees, including beveled edges and weld landings. In addition, the system possesses one of the largest cutting envelopes available, able to handle sections of material up to 14 feet by 30 feet and up to 15 inches thick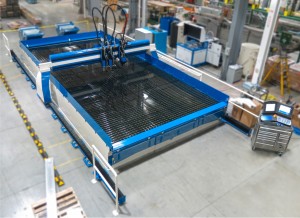 The addition of water jet technology allows AT&F to complement its other cutting technologies, giving customers a full spectrum of material cutting services. This new technology allows us to bring additional services to our customer base," said Ken Hagan, AT&F's Vice President of Business Unit Operations. "We are now a one-stop shop for all material-cutting requirements, even on projects that require complex cutting and processing on specialized materials."
AT&F CEO Michael Ripich said the addition of the water jet cutting system is consistent with the company's key strategy, "We Invest in Customer Success."
"We are excited to offer this service to our customers," said Ripich. "Our expanded capabilities better serve our customers' needs, allowing us to do more from a single location and deliver on our promise of BIG innovation." For more information, please contact us today.
About AT&F:
AT&F has built an outstanding corporate reputation of quality and innovation by providing custom steel manufacturing solutions to industries throughout the world. We are committed to customer success via specialized facilities and locations, and nonpareil quality systems. AT&F is an ISO 9001:2008 certified manufacturer with 700,000 square feet of manufacturing space at locations around the globe, including Cleveland and Orrville, Ohio; Manitowoc, Wisconsin; and Aarhus, Denmark.