AT&F is pleased to be featured as the Wire-Net Member Profile feature.
AT&F is a steel fabrication provider, producing major of components for construction cranes and mining equipment; structural sections for shipbuilding, nuclear power plant related components, specialty stainless steel fabrications as well as armor and armor vehicle systems. John J. Ripich founded AT&F at the age of 40 after working at the Ohio Machine and Boiler Company. Ripich had become well versed about tanks and boilers during his tenure and decided to produce similar but higher-quality products, thus founding The American Tank and Fabricating Company in 1940.
AT&F produced foundry equipment for the booming metals industry: Hand Ladles for pouring molten metal into molds, which the company still sells today. During the war years Ripich developed Amerimag™ steel to solve a problem where contamination from the steel used in melting pots was causing aircraft components to fail in flight, taking many lives. The steel was produced and used in the industry for decades to follow.
Today, AT&F is in its fourth generation of family ownership, led by CEO and President, Michael Ripich. From the early years, AT&F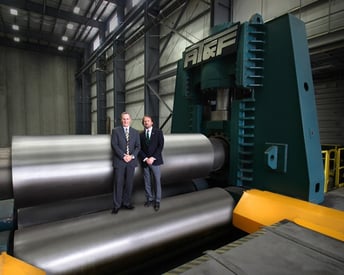 leaders had the foresight to install the largest machines thus differentiating themselves from the rest of the industry. This has allowed AT&F to produce fabrications that push the limits of size, scope, and precision; large lattice crane booms for the construction industry, shovels and buckets for the mining industry, and steel components for the bridge industry, navel defense aircraft and submarine components, and wind turbine and nuclear power components for the energy industry. AT&F is driving growth both in terms of locations as well as services. Within the last year, it has expanded into the Midwest (AT&F Wisconsin), built a facility in India (AT&F India) and launched a new division in Massillon, OH (AT&F Structures). These operations complement AT&F's Cleveland, OH and Orrville, OH (AT&F Advanced Metals) facilities. The company also has operations in Denmark (AT&F Europe) and offices South Carolina (AT&F Marine).

AT&F partners with its customers to share its specialized expertise in metallurgy and advanced manufacturing concepts to design and fabricate components that range from simple to highly advanced fabrications in the mining, nuclear, renewable energy, infrastructure and defense sectors. Throughout the last 76 years, AT&F has built an outstanding corporate reputation by emphasizing a second-to-none commitment to operational excellence. AT&F is proud to have the longest-running American Society of Mechanical Engineers (ASME) "U" Stamp and many years of fabricating expertise.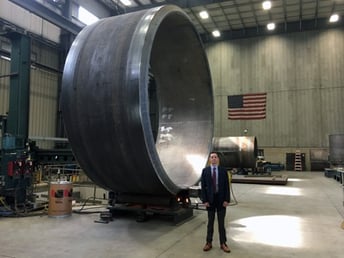 AT&F is pleased to be involved with WIRE-Net. The company has been a perennial sponsor of the Annual Meeting and Nuts & Bolts Bash. Bridgette Berthelot, Marketing Manager, has served in several capacities with WIRE-Net including Event Committee Chair and is currently a member of the Resource Development Committee. Brian Spitz, VP of Finance, serves on the Finance Committee. Chairman Terry Ripich was a member of the founding WIRE-Net Board of Directors.
"The networking events, including the golf outing are always a joy but the real value we capitalize on are the number of educational events, morning seminars, Lunch 'n' Learns, and manufacturing plant tours. The membership base in the community has so much value to share that we are all able to take and apply to our own operations," says Bridgette Berthelot, Marketing Manager. President and CEO Michael Ripich adds "WIRE-Net has played a key role in our growth in various ways and at various times over the past quarter century. Having an advocate for industry is vitally important for the economic health of our region."
WIRE-Net is a non-profit economic development organization dedicated to improving the community through nurturing manufacturing and the jobs and prosperity that come with it. WIRE-Net is a problem solver. It works as a consultant, collaborator, referral source and hands-on provider in workforce development, growth and operational improvement initiatives, peer to peer and expert knowledge sharing, supply chain development, governmental assistance programs and urban redevelopment.