AT&F Advanced Metals, located in Orrville, Ohio, has completed its 1000th vessel certified by the National Board of Boiler and Pressure Vessel Inspectors (NBBI). AT&F Advanced Metals is a division of the world class steel fabricating enterprise, AT&F, specializing in corrosion resistant materials for a variety of industries. A specialty fabricating shop with a dedication to high quality, AT&F Advanced Metals manufactures for some of the most physically demanding markets in the world today.
People unknowingly come into close proximity with pressure vessels many times during a regular day, making the need for safety a top priority. The NBBI works in conjunction with the American Society of Mechanical Engineers (ASME) to create and enforce a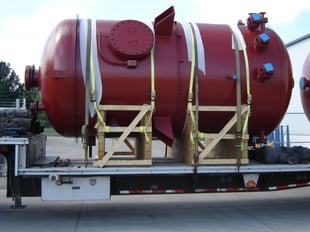 standard for safety in pressure vessel production. When a pressure vessel is made, an authorized inspector ensures that all safety and quality steps are followed during manufacturing, similar to an ASME "U" Stamp.
"AT&F Advanced Metals has always put a priority on quality, and a milestone like this proves our commitment to consistent, repeatable production," President and CEO Mike Ripich remarked. "Our high standard of quality is a direct result of our experience and skillset in all areas of the enterprise."
Beginning production in 2002, AT&F Advanced Metals provides expert skills in manufacturing and engineering. Metals like titanium, tantalum, and niobium are frequently used for their corrosion resistance, and high levels of precision are required for working with these metals. Due to the extreme environments that the materials will operate within, standards of manufacture ensure the safest and most reliable product possible.
AT&F is committed to providing its customers with top quality components and pressure vessels are no exception. Since 1940, we have held the longest-running ASME U-stamp in existence, U-14, and have carried the fidelity of quality for over 76 years. This level of excellence has earned us a place as one of heavy manufacturing's most trusted enterprises. The excellence we demand from all of our divisions manifests in our Advanced Metals division.