AT&F supports its 'green' customers by partnering with them to fabricate large scale specialty alloy fabrications used in a variety of processes. These processes include waste to fuel, water, emission control and many others.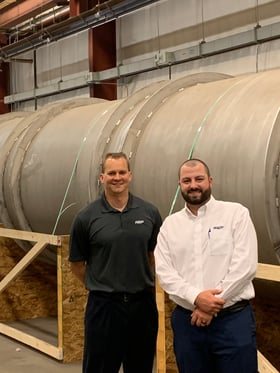 According to Ryan Culbertson, Director of Business Development for AT&F Advanced Metals, "Our customers come to us because we are experts in the management of these complex fabrications and quality is at the center of everything we do. Yes it is exciting to be involved in these projects that are important to our customers, but it is equally satisfying knowing that AT&F is contributing by manufacturing products that are environmentally responsible."
In today's eco-conscious world, AT&F is committed to world-class environmental management. This commitment is shown through AT&F Advanced Metal's scrubber fabrications for the marine industry, which remove sulphur from diesel exhaust. This is just another example of how AT&F is committed to supporting customers with "green technology."
About
AT&F has over 80 years of experience, impressive equipment capabilities, and quality in their DNA. These qualities are aligned with AT&F's core focus to Build, Protect, Energize, and Move the World through metal fabrication. The company has built an outstanding reputation of quality and innovation by providing custom and high volume steel fabrication to industries throughout the world. They are committed to customer success via specialized facilities and locations, and superior quality systems. AT&F is an ISO 9001:2015 certified fabricator with 600,000 square feet of manufacturing space in multiple locations, including Cleveland and Orrville, Ohio, Manitowoc, Wisconsin, and Aarhus, Denmark.
Contact Ryan today if you have alloy fabricating needs of your own:
Ryan C. Culbertson; Business Development Manager; +1330-749-6642; culbertsonr@atfco.com