As he was interviewing for his current position as business unit leader of AT&F Wisconsin about two years ago, a man noticed a small saying at the bottom of a job description he was perusing: "The company is in its fourth generation of family leadership. While the values of the organization are similar to those found in family-run firms, the company is sophisticated and professional without being pretentious."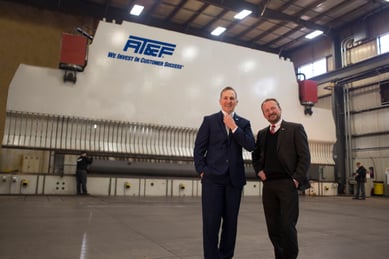 He saw it as a good sign, and it turned out to be when AT&F, a 76-year-old fabricator of heavy and large parts, tapped him to run its newly acquired, 60,000-square-foot facility in Manitowoc, Wisconsin. He knew he had joined a company that practiced what it printed.
"It's a family-owned company that is run professionally and welcomes outsiders and their ideas," he said. "You often don't find all three of those."
That combination has served the fabricator well over the years. It is now being led by the fourth generation of the family, and it is entering new business segments and geographic markets at a rapid pace. Guided by business principles that have been forged over the years, the family company has matured into a modern mid-sized manufacturer with an increasing fabricating knowledge base and an expanding manufacturing footprint. This growth and the efforts to maintain an entrepreneurial and family-first work environment are two of the main reasons that The FABRICATOR has named AT&F as the winner of its 2017 Industry Award.
From the perspective of President Michael Forde Ripich, AT&F is defined by its ability to meet customers' fabricating needs, which push the limits of scope, scale, and precision. "We Invest in Customer Success®" is the company motto that summarizes this spirit.
"Our company motto resulted from a strategy session about our customers' difficult, unmet needs," Ripich said. "Those needs require capital investment on behalf of our customers to the point that they aren't able to justify the acquisition of such a large piece of equipment and use it only 10 percent of the time."
Printed with permission fromThe FABRICATOR