AT&F is pleased to announce that AT&F Wisconsin and AT&F Advanced Metals in Orrville, Ohio, have achieved ISO 9001:2015 certification. AT&F is now ISO certified across the entire enterprise which includes AT&F Cleveland, AT&F Advanced Metals, and AT&F Wisconsin.
This investment and achievement reflect AT&F's commitment to quality craftsmanship while providing high value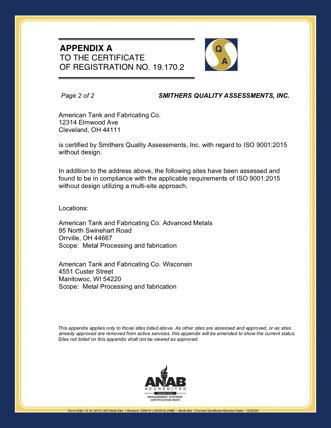 to its customers. According to Ken Ripich, EVP of AT&F, "With our recent certification at both AT&F Advanced Metals and AT&F Wisconsin, regardless of where work is performed across the AT&F Enterprise, our customers can be 100% confident that we will adhere to the strict guidelines established in our ISO 9001 Quality system." AT&F is dedicated to investing in customer-focused processes that provide quality products, assure on-time delivery, and reduce waste.
AT&F is no stranger to compliance. Besides their commitment to ISO, the Company has been providing their Naval customers with complex fabrications for over 40 years, in accordance with several different Military standards. AT&F was recently recognized by BAE Systems as one of their suppliers of the year. This speaks to their commitment to industry leading performance in quality and on-time delivery. AT&F also continues to maintain the oldest ASME U Stamp on record. So yes, you might say quality is in their DNA.

About AT&F
AT&F, started in 1940 by John J. Ripich, is founded on 6 important Core Values, including Work Hard, Do what we say we will do, Take Care of each other, Quietly Lead, Invest, and Run to it. AT&F has industry leading reliability, a data-driven management system/ "We Run on EOS," and over 80 years of innovation and investment. These qualities are aligned with AT&F's core focus to Build, Protect, Energize, and Move the World through metal fabricating. The company is committed to investing in customer success. AT&F is ISO 9001:2015 certified with 700,000 square feet of manufacturing space in multiple locations, including Cleveland and Orrville, Ohio, and Manitowoc, Wisconsin.