American Tank & Fabricating Co Among More Than 20 Award Recipients Recognized at the Annual 'Partner2Win' Supplier Awards Ceremony
Cleveland, OH – December 4, 2020 – AT&F today announced it received a BAE Systems Partner2Win Supplier of the Year Award for VPM program based on exceptional performance and contributions to supply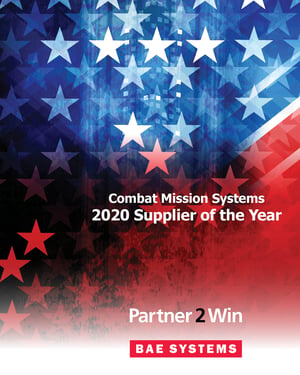 chain success in 2020 for BAE Systems' Combat Mission Systems business. AT&F was honored at a virtual online ceremony and was selected from a group of more than 1,500 suppliers that worked with BAE Systems in 2020
BAE Systems' Partner2Win is a global program designed to achieve operational excellence and eliminate defects in its supply chain by raising the bar of performance expectations to meet the demand of current and future customers. As part of the program, BAE Systems meets regularly with its suppliers at their locations to transfer best practices to ensure that the components and materials that compose BAE Systems products meet the highest quality standards.
"Recognition of our top-tier suppliers underscores BAE Systems' commitment to delivering quality products on-time and on-budget, in order to meet our customers' requirements," said Jeremy Tondreault, vice president and general manager for BAE Systems' Combat Mission Systems business. "We are proud to partner with companies – including AT&F – who are dedicated to delivering the products that protect the men and women in uniform."
About BAE Systems
BAE Systems provides some of the world's most advanced, technology-led defense, aerospace, and security solutions. The company employs a skilled workforce of more than 83,000 employees worldwide and operations in 30 states across the U.S. Working with customers and local partners, BAE Systems develops, engineers, manufactures, and supports products and systems to deliver military capability, protect national security and people, and keep critical information and infrastructure secure.
About AT&F
AT&F has over 80 years of experience, impressive equipment capabilities, and quality embedded in their DNA. These qualities are aligned with AT&F's core focus to Build, Protect, Energize, and Move the World through metal fabricating. The company is committed to investing in customer success. AT&F is ISO 9001:2015 certified with 700,000 square feet of manufacturing space in multiple locations, including Cleveland and Orrville, Ohio, and Manitowoc, Wisconsin.