For several years, AT&F has been a proud partner of the Wounded Warrior Project, a nonprofit organization that supports veterans and active duty service members.
Wounded warrior Barry Pettit from Brook Park, Ohio will be announcing one of the picks for the Denver Bronco's in the NFL draft this week. This selection will be made in Cleveland, Ohio on Saturday, May 1st. Barry was injured in Iraq when serving as a Combat Engineer for 13 years. After being medically retired, he joined the Wounded Warrior Project in 2014 to reconnect with and serve fellow warriors. AT&F is incredibly proud of Barry for his bravery and we are excited to root him on as he makes his pick this weekend.
To showcase the Company's respect for the men and women of our armed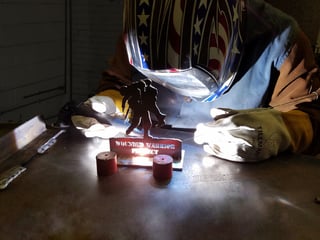 forces, AT&F donates crafted trophies to the organization that are laser-cut and welded from stainless steel. AT&F is also a member of the Wounded Warrior Project's "Warriors to Work" program, helping employ veterans and bring their valuable skills to our enterprise.
"AT&F is pleased to honor the heroes that have sacrificed so much to preserve our way of freedom. To our team members, using our skills to fabricate awards for Wounded Warriors is one of the most rewarding things we do. Barry deserves kudos for making it happen" -Michael Forde Ripich, AT&F CEO.
About
AT&F (The American Tank & Fabricating Company) was founded in 1940 by John J. Ripich. The Company has committed to continuous investment and innovation for over 80 years. Our customers remain the focal point of all that we do. AT&F is ISO 9001:2015 certified across the Enterprise, with 600,000 square feet of manufacturing space in multiple locations, including Cleveland and Orrville, Ohio, and Manitowoc, Wisconsin.