CLEVELAND, Ohio – May 8, 2012 – AT&F, one of the industry's premier metal fabricators, has installed a new steel plate blasting system as part of its strategy of installing the largest metal forming and processing equipment available. The new blasting machine enables AT&F to blast steel plate up to 12' wide and 7" thick. Boasting state-of-the-art speeds to remove surface contamination, scale and other impurities from the surface, the new equipment is one of a series of recent investments.
AT&F continually expands the company's capabilities to serve customer needs. This new blasting machine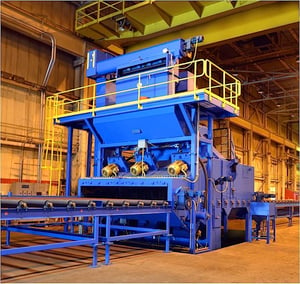 follows the recent addition of massive new rolling capabilities, a third robotic contour beveling system, 59' single ram press brake, a new 115,000-square-foot facility, and an additional 32,000-square-foot facility dedicated to nuclear fabrication. All of the investment has taken place in the company's Cleveland, OH location. "AT&F continues to invest in technology that will have an immediate impact for our customers. AT&F has prided itself on pushing the limits of precision, scope, and size for steel fabrications. Our customers demand and deserve the highest quality products available. AT&F has again answered the call by investing in one of the largest high-tech blasting systems available today and aligns perfectly with our company mission," states Ken Ripich, AT&F Executive Vice President.
AT&F's service center offers prime materials direct from the mill, and its burning center boasts large tables with full plate capabilities for precision laser, plasma, flame cutting and contour beveling. The forming and rolling experts at the company's AT&F Steel unit specialize in cylinders, rings, cones, segments, angles and custom shapes in medium to heavy walls, long lengths, small and large diameters. A complete range of welding processes, all in accordance with the appropriate industry specifications, meets any customer requirement. In-house non-destructive testing, heat-treating and shot-blasting are a few of the many other services available.
Ripich continues, "Expanding our in-house service center capabilities to serve our customers in various industries including mining, oil and gas, defense, nuclear, and construction, will help our customers achieve bottom line savings by reducing their internal costs associated with cleaning parts prior to assembly. The descaling system is but one component to reduce lead times and improve efficiencies to better serve our customers. By adding this large scale blasting equipment, we demonstrate our commitment to continually re-invest in our customer's success."
AT&F's mission, "We Invest In Customer Success" and its continuous dedication to push the limits of precision, size and scope is evident with the capital investments made to service its customers. AT&F (American Tank and Fabricating, www.atfco.com) began operating as a steel fabrication company in 1940. Pride and attention to detail have inspired its growth and helped to define the manufacturer it is today. Through its divisions and brands AT&F has built an outstanding corporate reputation providing custom steel manufacturing solutions to industrial manufacturing companies throughout the world.