CLEVELAND, Ohio – June 11, 2013 – AT&F began in 1940 as the American Tank and Fabricating Company and through the next seven decades grew in the United States by leading the industry with specialty metal fabrication that pushed the limits of scale and precision. The last decade has seen AT&F transform itself into being recognized globally as a leader in the increasingly important realm of steel and alloy fabrication. Previously doing business as American Tank & Fabricating Company, the company formally announces the name change to AT&F.
According to Michael Ripich, AT&F President, the formal name change comes now due to the extensive growth it has had during the past decade. He states, "The name change signifies that we have become a global company, serving many markets with a wide variety of precision fabrication products and services."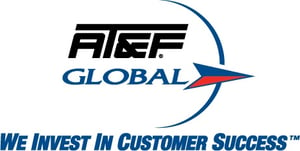 "Our style of doing business, with care and integrity, dates back to our founder, John J. Ripich, and is perhaps the thing we find most valued by customers the greater the distance we travel from our headquarters. This strong foundation has allowed us to expand into new markets, industries and countries. Everywhere we do business, 'we are AT&F,'" asserts Ripich.
Through unique resource capabilities, including the supply of ferrous and non-ferrous metal, long press brake forming, laser and plasma cutting, robotic contour beveling, machining, heavy rolling and welding, AT&F provides high quality, tight tolerance fabrications. Additionally, AT&F provides protection of people and equipment against blast, ballistic impact and other hostile actions. Protection can be offered against high and low caliber ballistic weapons as well as Improvised Explosive Devices (IEDs) and mine and blast threats.
AT&F is committed to customer success throughout the globe via specialized facilities and locations and nonpareil quality systems: ASME U, U2, S, N, NPT, NS, NA stamps, and ISO 2001; 2008 compliant. AT&F operates 700,000 square feet of manufacturing space throughout the globe: Cleveland, Ohio; Orrville, Ohio; Manitowoc, Wisconsin.; and Aarhus, Denmark.
AT&F recently completed the install of the largest roll in the western hemisphere, a third robotic contour beveling laser, the largest single ram press brake (59'), large plate blasting machine, and a 15 feet by 40 feet CNC horizontal boring mill.
AT&F's massive tonnage equipment for custom steel fabricating and shaping medium to heavy, long parts and components is one facet of its comprehensive manufacturing facility. AT&F's service center offers prime materials direct from the mill, and its burning center possesses large tables with full plate capabilities for precision laser, plasma, flame cutting and contour beveling. The forming experts at AT&F specialize in cylinders, rings, cones, segments, angles and custom shapes in medium to heavy walls, long lengths, small and large diameters. A complete range of welding processes, all in accordance with the appropriate industry specifications, meets any customer requirement. In-house non-destructive testing, heat treating and shot-blasting are a few of the many other services available. AT&F is ISO 9001:2008 compliant.