CLEVELAND, May 13, 2020 /PRNewswire/ -- Aligned with their core focus to Build, Protect, Energize and Move the world through metal fabrication, AT&F has made another major investment in a 5-axis, 10K fiber optic laser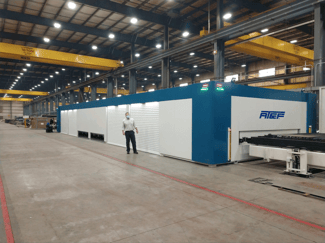 machine. This equipment was recently installed and is now actively cutting parts. The cutting envelope is 10 feet wide by 60 feet long and is equipped with a shuttle table system, allowing for continuous production around the clock.
AT&F was one of the first fabricators in the country to adopt large bed laser cutting technology. The company's first multi-axis laser machine was installed over 25 years ago, capable of handling material up to 13 feet wide and 100 feet long. Over that period, AT&F has produced thousands of kits and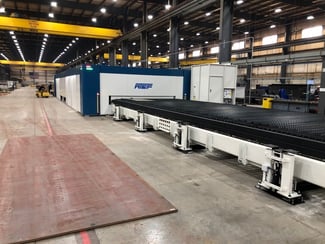 fabrications, supporting many industries including construction crane, rail, defense, mining, bridge, transportation, and marine.
According to Michael Ripich, President and CEO of AT&F, "This new high-speed fiber optic laser machine will allow AT&F to significantly increase capacity, while improving quality. Demand from our customers continues to grow for high volume part profiling, along with the ability to provide precise weld prep bevels and laser etched part marking." Coupled with the ability to efficiently laser weld large sheets of material and form components, AT&F is able to offer unmatched industry-leading solutions for its customers.

About
AT&F has over 80 years of experience, impressive equipment capabilities, and quality in their DNA. These qualities are aligned with AT&F's core focus to Build, Protect, Energize, and Move the World through metal fabrication.The company has built an outstanding reputation of quality and innovation by providing custom and high volume steel fabrication to industries throughout the world. They are committed to customer success via specialized facilities and locations, and superior quality systems. AT&F is an ISO 9001:2015 certified fabricator with 600,000 square feet of manufacturing space in multiple locations, including Cleveland and Orrville, Ohio, Manitowoc, Wisconsin, and Aarhus, Denmark.